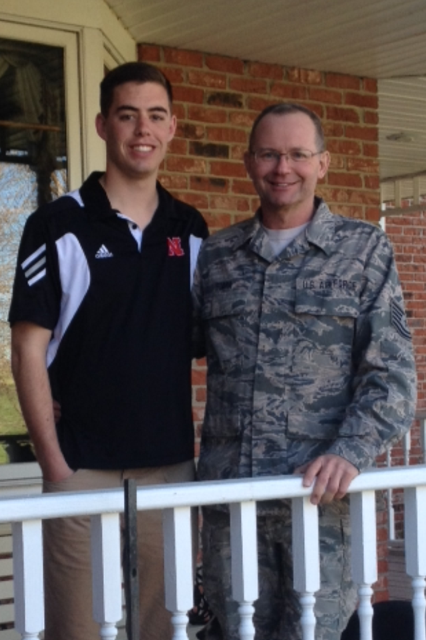 When many think of military sacrifice, they think of the men and women on the battlefield willing to sacrifice their lives, often forgetting about the people that those men and women leave at home. Even though we as military children do not wake up on a battlefield, we have small battlefields that we cross every single day. These little "battlefields" define the lives of military children. Military brats understand each of the challenges that come with them.
For me, one of these "battlefields" came my senior year of high school. Senior year was a big transitional year for me that brought many big events in my life like my last games of my high school football and basketball career, college visits and meetings and of course my graduation. Growing up I imagined these events with my dad by my side. Walking onto the court for senior night hearing my name with him right by me or having him in the audience for my graduation. However, the summer before my senior year my dad broke the news to myself and my family that he was going to leave on a nine month deployment that would last my entire senior year. My dreams of having him with me for these important events were shattered. One thing I learned during his deployments was realizing what I missed most about him were the little things. I missed having little conversations with him after I got home from practice about the upcoming game. I missed seeing him by the grill making hotdogs and hamburgers. More than anything, I missed seeing him help my mom with all sorts of responsibilities that now piled upon her and that's where being a military brat helped me grow. With my dad gone, I had to step up and help my mom with all the things that he used to do for us. Instead of coming home from practice and watching TV, I mowed the lawn, helped with yard work or helped make dinner. The beautiful thing about being a military brat is that it helped me be more thankful for having a dad in my life because I saw all the things I appreciated him for. His absence made me realize how grateful I am to have him in my life.
I went through my senior year without my dad, but it allowed me to connect with the amazing support system behind me. My high school PA announcer introduced me for my senior night. When introducing my parents, he pointed out why my dad was gone creating the largest roar from the crowd that night. My high school principal made it possible to have my younger brother skype my graduation so my dad could see it halfway around the world. In addition to this, I also won the Adrian and Corena Swanier Scholarship which continued to help me realize the network there really is behind military children. The scholarship has helped me tremendously financially, and it also made me feel amazing about the group of people who are thankful for military brats and the sacrifices they make. I can't emphasize how grateful I am for those who sacrifice for this country and I am thankful that I could also make small sacrifices to help make the United States the great place it is.